How the Nightmare is Part of a Desired Dream Come True.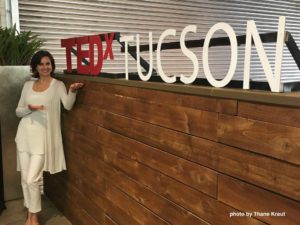 I applied for a daring adventure on Tuesday April 12th, 2016. On Thursday the 14th my application was accepted. On Saturday April 30 around 3pm, I auditioned for TEDx Tucson.
Yes, speaking for TEDx is a daring adventure. Even if it's just an audition. Especially if it's an audition. It implies judgment. Are you worthy for the TED stage?
Just ask any TED and TEDx speaker.
Up until that moment on the 30th, I had never given a talk that was as intimate as that one. In all the hundreds of speeches, presentations, and assemblies that I had given in the United States, Europe and Uganda, I never gave a talk quite like that one. I had presented on HIV/AIDs and STD reasons to not have sex (to children under the age of 13!), given a talk on public speaking (when I was a novice and consumed with anxiety), gave assemblies on orphans and children sick and dying (children who I had come to know and love), wrote a speech for a Queen in Uganda (and gave one to her and her entourage), but never had spoken about my secret desire to be a bitch.
Yeah, I had a secret desire to be a bitch.
Plus I was swearing in public, in as much as the word "bitch" is considered cursing. (And according to the Facebook ad I tried to run for my book, I was told by Facebook admin that my book promoted profanity. My ad was denied.) I was scared, intimidated by my own subject, and felt powerful, all at the same time.
A few weeks later – can't remember the date but it was around mid-May 2016 – I received an email. I was invited to speak for TEDx Tucson the following year. The following year! That meant a year of anticipation. And anxiety.
What if the people at TEDx Tucson changed their minds? A lot can happen in a year. In a freaking day. As scared as I felt to publicly speak about anger and being a bitch, I desperately wanted to speak about anger and being a bitch.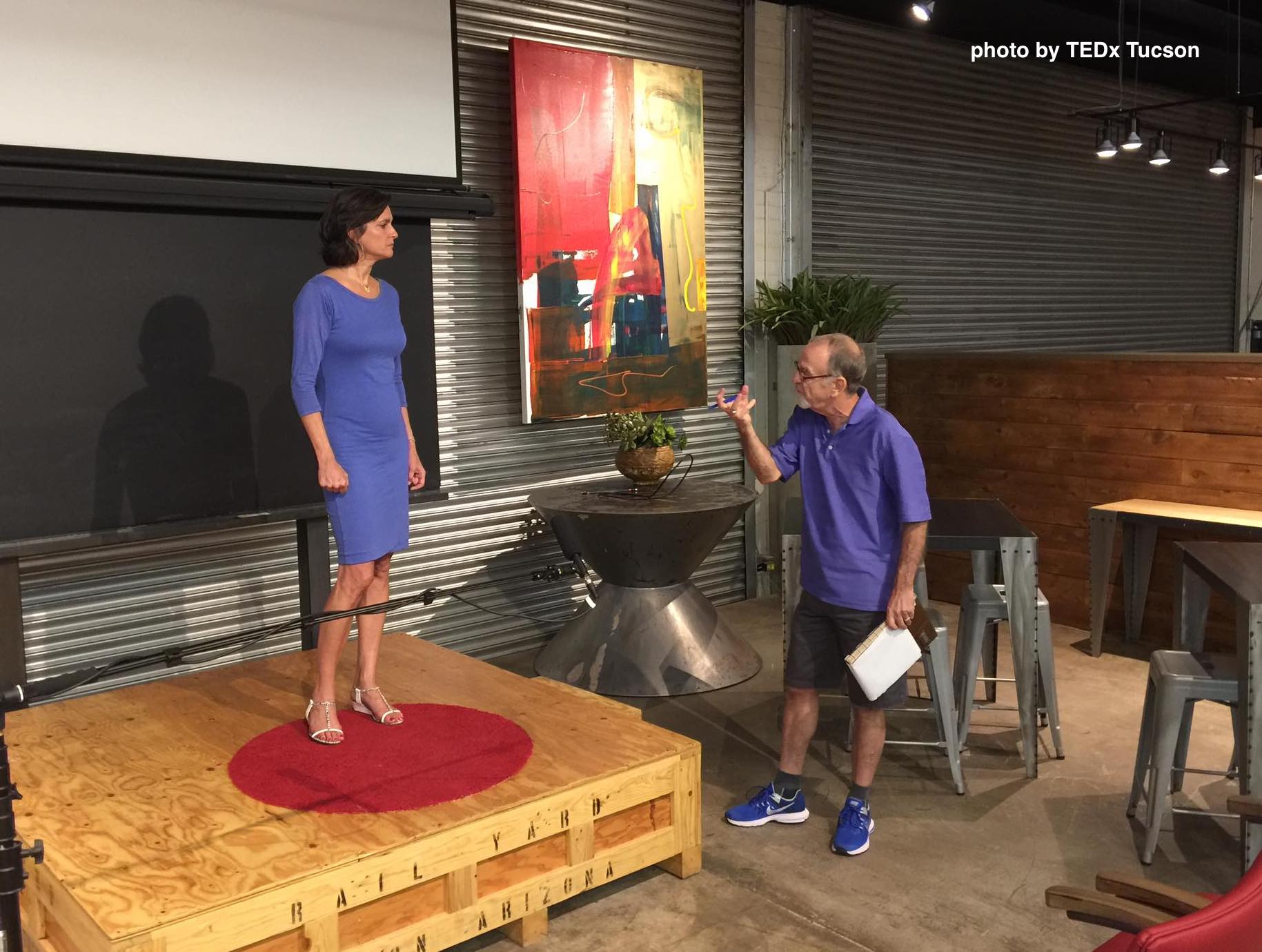 They didn't change their minds. Neither did I.
The Breathing Fire Salon for TEDx Tucson was announced. March 4, 2017. A Saturday evening. It was going to happen. For real. Now, I had real reason to be scared. So I prepared. And prepared, and prepared. In between big life changing events.
During that year, I was burglarized and moved to a few temporary houses. Life was kind of a drag. And I was worn out and exhausted. I was being kneaded this way and that with a plethora of emotions from moving across the country and missing everyone back east, and the trauma of being violated from the burglary. Oh, and writing and publishing a book. What a freaking year (trying not to use profanity, here.).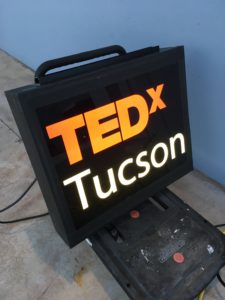 In January 2017, my friend Nooshie and I drove to Phoenix to find the perfect outfit for my time on the red round rug. I wanted to honor the American Suffragettes by wearing a pantsuit. And in a vision I had about 6 years earlier, I had seen myself wearing white, beige, and light colors on stage. I wore "bone" for the audition. After trapsing around the Scottsdale Fashion Square Mall and Phoenix Biltmore Fashion Park Mall, I found the perfect St. John jacket. In the St. John store. The jacket was so beautiful. And damned expensive. I bought it.
Time passed. I practiced more and more. Then the day came.
As soon as I awoke on March 4, 2017 the darnedest thing happened. I forgot to breathe. We're talking about an autonomic nervous system disorder, of sorts. My biology apparently thought I was in deep danger. A nightmare that I couldn't wake up from. I had to keep reminding myself to take intentional deep breaths. My body wanted to seize up and find a safe hiding place. But the show had to go on. There was something about me swearing on stage that just had to be done. There was something about sharing deep intimate stories of abuse, that had to happen.
I can feel that tightness and quivering in my chest as I type this blog. Wow. But I also was excited. My daughter and her best friend were in town. A friend had flown in for just that night to attend the event. And everybody who knows me, knew I was going to give a TEDx talk. I felt a lot of pressure and excitement. I was a wreck and a wild woman.
I'd go from "OMG, this is my American Idol opportunity!" to "WTF did I get myself in to?".  At the very least, I felt confident in that special outfit I purchased for my rock star occasion. I showered, did my hair (on video I look like I have a helmet head of hair – I can't believe it, really?), and got dressed. I was ready. I planned to leave for the TEDx venue with plenty of time for sound check and overall preparation.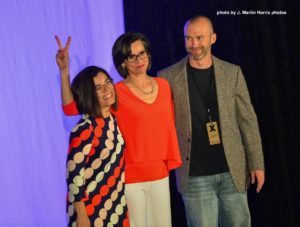 I got in the car – still intentionally breathing deeply – and I remembered what the speaking coach had asked the three TEDx Salon Speakers to do: bring a few outfits just in case. Doug Stephenson wanted us to be prepared for whatever the temperature would be in the huge warehouse that was being temporarily staged for, well, a stage. I was so totally confident in my St. John outfit. I felt like a million bucks, on the outside. On the inside, I felt like a few straggly dollars. I was anxious. But, at least, I was dressed well no matter the temperature in the warehouse.
I was about to pull out of my garage when I thought, I want to honor Doug – even though I had no intention of changing my clothing. But if he asked me "Did you bring a few outfits?", I wanted to say "yes" honestly. I pulled back in the garage and took a few minutes to grab another outfit and matching shoes, just because. Well because as those who watched the TEDx can attest to, truth and honor, are important to me.
I arrived at Creative Machines in south Tucson. Made my rounds, said hello. Took in the amazing sights of creative machines and art. There was a T-Rex, too.
Evan Grae Davis the TEDx team member in charge of taking video of everything that happens on stage, looked at me. He asked me, "Lori, do you have another outfit? I think you are going to fade into the stage background in that one."
Crap.
The St. John outfit had to go. I couldn't believe it.
Damn.
"Yeah, I do."
Shittt.
So I went out to the car, grabbed the garment bag in the trunk, and made my way to the public restroom and changed. I didn't bring matching jewelry, not that I had any really. Almost all of my jewelry had been stolen in the burglary. What a rotten memory to add to the TEDx night as I removed a perfectly coiffed outfit and replaced it with the one that was crumpled up from inside my car trunk.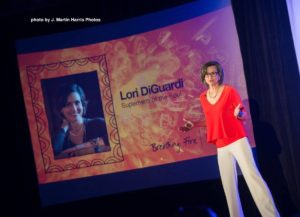 Then it was sound check time
As I stood on stage looking out into the dark huge warehouse filled with empty seats, I panicked. There was no connection for me. Nothing that could ground me. My reptilian brain started to squirm and my biology took a deep dive over the edge as far away from homeostasis as I had ever been. I froze. I freaked out. Words stumbled out of my mouth.
After about 5 minutes of a living nightmare I heard "Ok, that's enough. We got it."
I went back stage and started to freak out about freaking out. I tried to convince myself that it would be OK. I had given a gazillion speeches. I love public speaking. Gave a speech to a Queen. Won speaking awards. This was a soul directive. If I could do anything, I could do this. But I continued to freak out.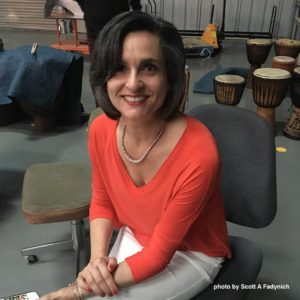 Doug gave me great suggestions and related similar experiences. He helped me. Yet I still freaked out. I kind of really wanted to fade into something but with the change of outfit, I would stick out no matter what. I had to show up and do this. There was no way out except for death, and apparently my brain thought that was already happening. So in an ironic and biological way, I had nothing to lose.
I paced. Then I'd sit down. I'd twirl in my chair, back and forth. Back and forth. I realized that I was doing everything that would continue my sympathetic nervous system freak out. So I stopped. I started with my breath. Consciously I'd breathe deeply. Years of mindfulness and breathing exercises seemed so far out of reach, but they were just there, beneath the anxiety. I was determined to make them mine again. I practiced grounding exercises, exercises that I do often. That I do with my clients.
There's nothing like a nightmare to unhinge everything you know. And just like when you are in bed sleeping and experiencing a nightmare, most of the time you are caught up in it and don't know that it's just a nightmare. It's just an illusion. You're not in danger. You're not going to die. But that's what it is like with anxiety. That's what it's like when your sympathetic nervous system freaks out.
But we always have a choice. To acknowledge and accept that we are freaking out because of a perceived nightmare. And choose to love ourselves with TLC – no matter what. To be gentle with ourselves – no matter what. Focus on the breath – no matter what. Be mindful – no matter what. We can then wake up, and remember the dream we want to live – no matter what. That dream that we can choose in each moment. That "something more" that beckons us, no matter what. The dream that inspires us to reach beyond what we have ever known. The dream that calls us into an unwritten future. That dream we so want to live, and that no nightmare – no matter how convincing it is – will prevent us from living.
Grounding. Embodied Awareness. Breathing. Self-love. TLC. Gratitude. All practices that help us live the dream when the change to live it, feels like a nightmare.
And then before I knew it, I was on stage. I could see the eyes of so many in the seats before me. I could see my daughter. I knew everyone was rooting for me. I knew that there were people in the audience that needed to hear what I had to say. I knew that some people would not like what I had to say. I knew that I was well prepared and that no matter how nervous I was, it probably wouldn't show.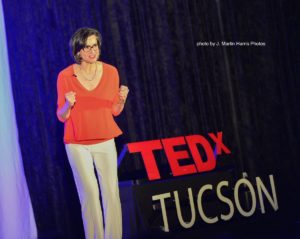 The standing ovation surprised me.
And then a few months later, on the morning of Mothers Day May 14, 2017, I learned that my TEDx talk was up on Youtube. The nightmare wanted to enter my dream, again. I immediately felt raw, vulnerable, and scared. Already there were comments under the Youtube video. Negative ones. But I understood. Anger and being a bitch trigger people. So many of us (all of us?) have unacknowledged anger and trauma that wants to be seen. That's one of the reasons I had to speak about them. And I know that every negative word and action from anyone, represent a deep aching to be loved. I know that deep aching – I have felt it, and occasionally still do.
I also know that being a bitch as I present it in my talk is about being heroic, honorable, and powerful. I know that being an honorable bitch for me, requires me to unconditionally love not only myself, but All others. Even those who post negative comments. Especially them. They help me see where I'm still not being the huge loving vortex of truth and honor that I came to earth, to be. Ultimately, I am here to grant myself the freedom to live life on my own terms by following my truth. And a big part of my truth is unconditional love. Accepting myself in my anxiety, in my joy, in my everything. I'm here to do that not only for myself, but also for All others. This is my dream. This is my life. This is the truth of my existence.
The TEDx talk gave me a perfect opportunity to be my true self, no matter what. Now that I've done it once, I'm ready for the next daring adventure. Any ideas?
And what about you? What daring adventure do you desire to take? What nightmare have you/are you experiencing that is a wake up call to live your waking dream? What does living on your own terms by following your own truth, look like? Don't you want to know? I do!