Three Tips to Increase Motivation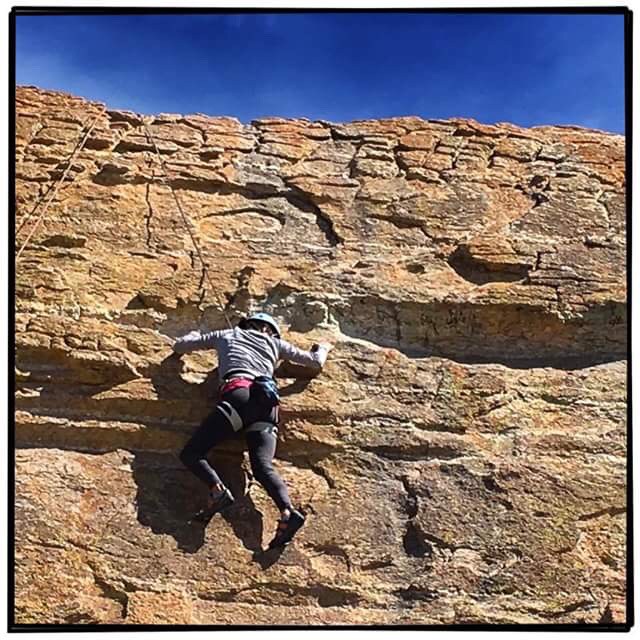 Scaling the cliff face at 6,000′ motivates me to climb, keep moving, and trust myself!
When clients come to me struggling with motivation, I find that they are not connected to who they truly are or what they value. There's a wellspring of potential but if you can't access that, every day life can seem like a dead-end and not worthwhile. When you are connected to that wellspring of potential, intrinsic motivation is naturally cultivated.
Here are 3 tips on increasing motivation (and tapping into potential):
1) Get grounded in your body. Use a mindfulness practice that brings your awareness down out of your head and into your body. Notice what's going on inside of you and what wants your attention. This practice alone can help a person get unstuck and motivated. Often, denying what you feel (your emotional energy) clogs up your energy, your path forward, and your motivation. Acknowledgment of your (inner) truth is key. To help to get grounded in your body and understand why this may be a challenge, I offer a free PDF: Intro to Mindfulness with 10 Simple Practices.
2) Get inspired. Rekindle the inner flame. Inspiration is a momentary energetic liberation from the status quo. Inspiration can pull you out of the quicksand of mediocrity. In that moment of liberation, inspiration can open the whole world up to you. Inspiration rekindles the inner flame and keeps it ablaze with desire and motivation. I write more about inspiration in my blog post: Inspiration to motivation and beyond: living your best life now.
3) Honor your core values. If life isn't fulfilling and nothing seems to motivates you, make a list of your top 10 core values and start investing your time and energy into them. When you don't make time for what really fulfills you, nothing will fulfill you. When you don't honor your core values, life is a struggle and complicated. If you don't know what your core values are, seek support to help you define them or reach out to me. For more about core values read my blog post: Living a deeply fulfilling life through simplicity.