Become Your Own Superhero in 10 Simple Steps
Being a superhero is more about the quality of your being rather than what you do yet it takes everything you got.
1 – Superheroes live for honor.
Make a commitment to honor yourself.
Proclaim, "From this day forward, I am committed to honoring myself."
Making a commitment forms an energetic contract and you will not be let off easy when you renege on it. Your commitment will invite you to honor it, no matter what.
Write your commitment down and stick it up on your wall, make it your screen saver – put it somewhere where you'll see it every day.
Create a list of reasons why you want to honor yourself – why you must, as a superhero, be in integrity. Write a list of consequences that will result if things remain the same. Write down why it's important to honor yourself now.
2 – Superheroes are heroic, honorable, and powerful.
Choosing to change your life, your behavior, or your relationships is uncomfortable. Commitment to your promise will keep you on point. Courage will help you with the fear you experience when you start expanding your comfort zone. Speaking up differently will require you to trust yourself and the process, especially if people (and your ego) expect you to be the "old" self and start questioning what's going on.
Make the choice and be heroic, honorable, and powerful when necessary.
3 – Superheroes are wise.
Allow the wisdom within you to guide your life.
Allowing the wisdom to guide you means surrendering the intellect and getting out of your head – as a practice. Your ego won't let go without a fuss but it's necessary to recognize that your inner wisdom from within the core of your being is more powerful than the knowledge inside your mind.
Proclaim like a superhero, "I release the compulsion to figure things out."
4 – Superheroes are present.
Use your breath to connect you to the moment of "now" throughout the day.
When you practice number 4 and you will automatically practice number 3.
Be deliberate. Plan for those times when you most need to be present like a superhero. Some examples: before your morning meeting at work; right before you speak to that person you don't like speaking to; before you agree to take on another responsibility; during before each time you speak – pause and take a breath – then speak. (Download the free 4 1/2 minute free Be Here Now MP3 or use any of the practices in Intro to Mindfulness.)
5 – Superheroes cultivate self-awareness.
Practice being in stillness and increasing your self-awareness.
Use your breath as in number 4, and then bring your awareness into your body. Be Here Now MP3 is great for this. As you breathe, bring your area of concern, a decision to be made, or a question into your bodily awareness and ask "What is there to know?"; "What message does my body have for me?"; "What wants to happen?"; "What does my inner wisdom want me to know about (xxxxxx)?".
When you experience any emotion use your breath as in number 4 and take at least 10 seconds to be curious about how that emotion feels like in your body without any thoughts, stories, or expectations. Just notice. You'll be surprised what you notice. Practice this often.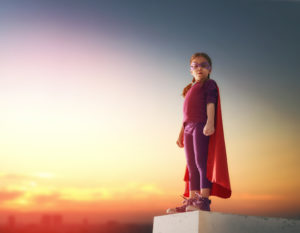 6 – Superheroes don't give away their powers.
Become aware of any habits or patterns in your life in which you override what you need, want, or desire (usually you give someone else's needs, wants, or desires priority over your own or invalidate yourself with judgment, excuses, fear, etc).
A key to this habitual behavior is when you feel discomfort in your body: your heart falls, your gut gets tight, your face tightens, you hold your breath, etc – and you ignore how you feel and pretend it doesn't matter. Slow down and notice when this happens.
Take a few minutes to write down one negating habit or pattern each day. Notice where those habits and patterns show up in your life. What's happening, who's present, where it happens, etc. Notice if you have people in your life that also negate what you need, want, or desire. What about your thought patterns – when do they negate what you want, need, or desire?
7 – Superheroes use personal discovery as a superhero power.
Revisit your commitment. When do you forget it? When did you honor it? What did the forgetting and remembering look like? What do you notice is happening? When are you uncomfortable? Comfortable? When did you want to say or do "this" but instead say or do "that"?
Notice what new insights you have since you made a commitment to honor yourself.
8 – Superheroes don't beat themselves up.
Through humanity's evolution, the oldest part of your brain has been vigilant in observing and interpreting the environment in order to keep you alive – and it perceives change as danger. It's an age-old evolutionary and biological habit that will try to keep you within your comfort zone, try to scare the bejesus out of you, and tell you all kinds of things that are not true to try to stop you from change. Choose change anyway.
You have neural pathways in your brain that make the ways you've been living your default system. With steadfast commitment to being a superhero for yourself, your brain will change; new superhero habits will form; your life will be more fulfilling.
Be compassionate, gentle, and patient with yourself when you fall back into old habits or judge yourself.
9 – Superheroes honor their commitments.
Choose a reminder – in coaching we call this an anchor – and place it in visible places to remind you of your commitment to yourself and these steps.
For example: sticky notes, a bracelet, a special magnet on your fridge, an object on your desk, etc – any special symbol or words or object that has special meaning to your commitment. You can set a timer on your smart phone to remind yourself, too.
10 – Superheroes celebrate what they value – and they value themselves.
Celebrate your commitment to yourself.
Each day acknowledge your commitment, your efforts, and growing superhero qualities.
Celebrate by taking time for something you enjoy even if it's only 5 minutes –  though I recommend something superhero style.
Schedule your 15 minute discovery call now – no obligation. Let's talk about how I can help you be your own superhero.